Hair Accessory Designer Appreciation Day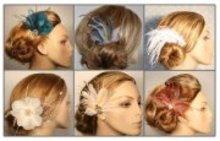 Where:
Imagine Hair & Art Studio
Address:
334 Broad Street
Rome, Georgia 30161
When:
June 30, 2012 Start Time: 10:00 AM
End:
June 30, 2012 End Time: 4:00 PM
For information:
706.622.2471
Tweet
Share by E-Mail
June is our birthday month and we have decided to celebrate it by bringing you even more of the amazing, artistic, and creative things that you have came to expect from Imagine and our local art community! Kind of a month long OPEN HOUSE PARTY!
We are very grateful for all of our artists that continue to create things and bring them to us to share with YOU!
We have deemed June 30th "Hair Accessory Designer Appreciation Day."
Many of our painters will be in the shop during the day showing, talking about, and selling their work! There will be discounts!
You will also have a chance to win a basket full of hair accessories! Raffle tickets will be $1 each and the winner will be selected on Friday, June 29th at our "Nod to Yesterday" Birthday event (more details to come!!)
Artists:
Melissa Rutledge
(If you are a designer and weren't contacted by our shop, please email Shea Dale romecreates@gmail.com for information on how you can participate.)
Location
View Larger Map