The Art of Networking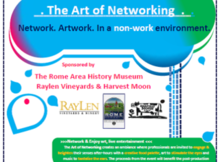 Where:
Rome Area History Museum, 2nd floor event room
Address:
305 Broad Street
Rome, GA 30161
When:
March 29, 2012 Start Time: 5:30 PM
End:
March 29, 2012 End Time: 8:00 PM
Price:
$15 or 2 for $25
For information:
southromedocumentary@gmail.com
Tweet
Share by E-Mail
On Thursday, March 29, 2012, 5:30PM-8:00PM the South Rome Documentary filmmakers will host The Art of Networking Series: Network. Artwork. In a non-work environment.
This after-work event, sponsored by Rome Area History Museum, RayLen Vineyards and Harvest Moon Cefe, provides networking activities in a sophisticated atmosphere facilitated by the notion that art is a tool for social outcomes.
Live entertainment, RayLen Vineyards' wine and complimentary hors d'oeuvres will be provided and entry into the event will cost $15 or 2 for $25 in advance at the Rome Visitors Center. Live music, artwork, wine, and hors d'oeuvres!
The South Rome documentary team would be honored to have your presence as a guest at The Art of Networking Series event. Please join your fellow Roman filmmakers in supporting their innovation to use film (art) to reach social outcomes. All proceeds will benefit the production and post-production costs of the documentary.
Location
View Larger Map