The Glass Menagerie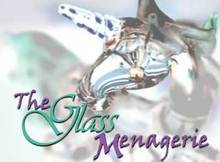 Where:
Historic DeSoto Theatre
Address:
530 Broad Street
Rome, GA 30161
When:
April 20, 2012 Start Time: 8:00 PM
End:
April 22, 2012 End Time: 2:30 PM
For information:
ritoffice@bellsouth.net and http://romelittletheatre.com
Tweet
Share by E-Mail
Showtimes are 8 p.m. on Friday and Saturday and 2:30 p.m. on Sunday.
Directed by Gail Dechamps and produced by Neal Brackett. "The Glass Menagerie" plot: Amanda's husband abandoned the family long ago. Although a survivor and a pragmatist, Amanda yearns for the illusions and comforts she remembers from her days as a fêted Southern belle. She yearns especially for these things for her daughter Laura, a young adult with a crippled foot and tremulous insecurity about the outside world. Amanda's son Tom works in a warehouse, doing his best to support them. He chafes under the banality and boredom of everyday life and spends much of his spare time watching movies in cheap cinemas at all hours of the night. Amanda is obsessed with finding a suitor for Laura, who spends most of her time with her collection of little glass animals. Eventually Tom brings home an acquaintance from work named Jim, who Amanda hopes will be the long-awaited suitor for Laura.
The cast includes Mary Walker as Amanda, Nancy Dobbs as Laura, Michael Hillman as Tom and Christopher Parker as Jim.
Location
View Larger Map