RACA Events
Fire Fly Fling
On Friday, April 22, 2016, at 7:00 pm, RACA will celebrate it's 40th year! The Rome Area Council for the Art's 5th Annual Fire Fly Fling presented by Pirelli Tire and in partnership with the Downtown Development Authority will ignite the creative culture of the 5th Avenue River District. The event will be held on the 5th Avenue Bridge overlooking the Oostanaula River and highlighting the urban improvement area along 5th Avenue. The upscale, festival-like event will be held on Earth Day and will tie into the conservationist theme of focusing on the re-using and re-cycling of existing buildings and infrastructure downtown to create a vibrant arts district. Our vision for the 5th Avenue River District is one that is bright with creativity, a thriving arts scene, fresh vegetation, and a continuing focus on preserving Rome's historic architecture, Rome's trail and levee system, and Rome's majestic rivers.
We will announce the recipient of the 5th Annual R.A.C.A. (Rome Arts Champion Award) and recognize the winners of the Fly Fling Fling Student Art Competition. We will feature a select silent auction of special items and experiences including an original Steve Penley charcoal, artwork by renowned local artists, elegant in-home dinners, fine wine and prosecco, jewelry, five amazing trips and much more! Trips include AIRBNB's #1 Most Desirable Listing Worldwide "The Buckhead Treehouse," a once-in-a-lifetime soldout Adele concert at Madison Square Garden, Sip & Soar Through Napa Valley, Wahington DC Art Lover's Tour, and a luxury getaway to Charleston. Join us for a fun evening of food, music and art! The deadline to purchase tickets was April 15, 2016.
Read more about the event and our vision for the 5th Avenue River District here.
Ellen Axson Wilson Art Walk
The 2016 Ellen Axson Wilson Art Walk, presented by the Rome Area Council for the Arts & Downtown Development Authority, will be on Saturday, May 21, 2016, at the Town Green in Downtown Rome. Come for Art Walk anytime from 2:00 to 7:00 pm and stay for the Spring Downtown Block Party! Art Walk hosts artists, photographers, jewelers, potters and other crafts makers. Artists will exhibit and sell their work, and many will demonstrate their techniques in painting, pottery, crafts and other areas. There will be live musical entertainment and activities for children. Join us for a fun afternoon and shop for original handmade gifts in Downtown Rome! Applications will be accepted from interested artists. The Artist Application and event information can be found here. If you own a business downtown and are interested in sponsoring an artist, the sponsor form is located here. The artist application deadline to apply is April 25, 2016.
Rome Beer Festival
The Rome Beer Fest is an annual celebration of the art of beer and a fundraiser for the Rome Area Council for the Arts. Since it's inception in 2008, the beer fest has brought thousands of people to Heritage Park in Rome to sample hundreds of beers, see local bands perform, eat great food, and enjoy each other's company.
Stay tuned for more information about the 9th Annual Rome Beer Festival in September 2016!
For more information visit www.romebeerfest.com and www.facebook.com/RomeBeerFest.
Rome Community HeART Project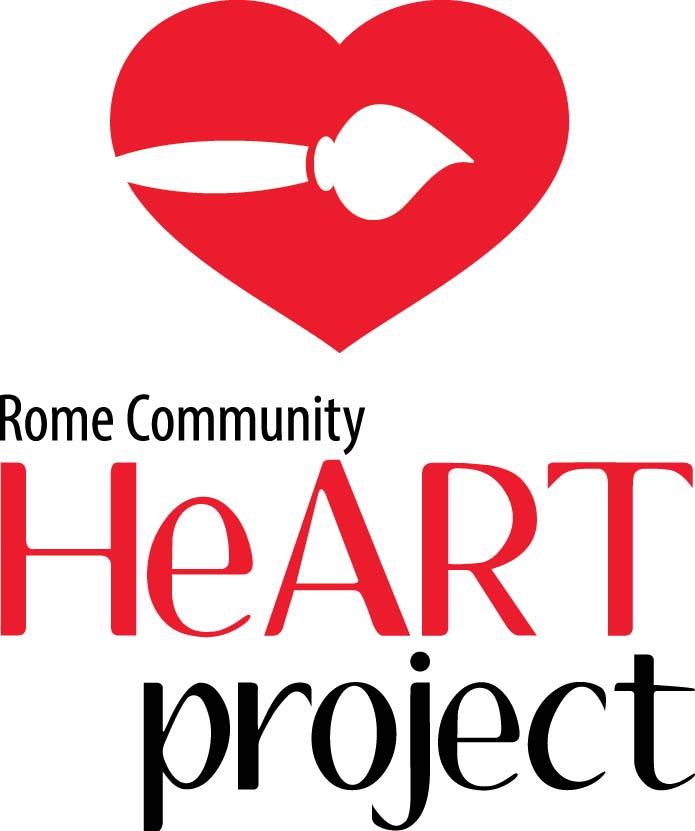 The Rome Area Council for the Arts (RACA) and Redmond Regional Medical Center teamed up once again for the 3rd annual Rome Community HeART Project. During the month of February, downtown Rome exhibited larger-than-life "HeARTs" in celebration of National Heart Month. Every year the HeART project has grown and 2016 was no exception. We brought back 15 impressive concrete HeARTs and added 5 large concrete HeART garlands --- for a total of 20 different opportunities for local artists and arts-related groups to showcase their talent throughout Downtown Rome. The month-long public art experience celebrates the local artists and organizations that bring creativity to our city while also raising heart health awareness. You can review the 2016 HeARTs on RACA's facebook page and check back for 2017 HeART artist applications in October 2016.