RACA Events
Rome Community HeART Project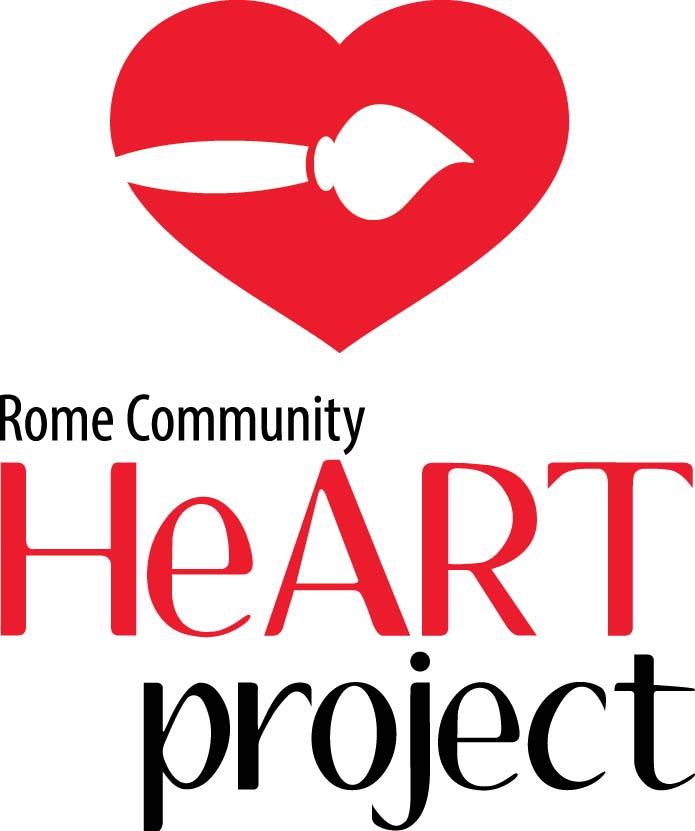 Calling all artists, art teachers & community organizations!
The Rome Area Council for the Arts (RACA) & Redmond Regional Medical Center are teaming up again for the 4th annual Rome Community HeART Project! During the month of February, downtown Rome will exhibit larger-than-life "HeARTs" in celebration of National Heart Month. We are bringing back 15 impressive concrete HeARTs along with 5 HeART garlands --- for a total of 20 different opportunities for local artists, art classes and groups to showcase their talent throughout Downtown Rome. This month-long public art experience celebrates the local artists and organizations that bring creativity to our city while also raising heart health awareness.
We would like to invite YOU to submit an entry for the 4th annual Rome Community HeART Project. The deadline for proposals has been extended to December 12, 2016. A maximum of 15 giant HeARTs and 5 HeART garlands will be considered for installation. Artists receive a stipend for supplies and one HeART will be awarded the People's Choice Award receiving a $100 cash prize based on votes from the community via social media campaign. All selected artists will be invited to participate in media coverage and promote their work through exposure from the event.
Download and carefully read the submission guidelines here.
After you have thoroughly reviewed the requirements, submit your online entry here.
Fire Fly Fling
On Friday, April 22, 2016, RACA celebrated it's 40th year! The Rome Area Council for the Art's 5th annual Fire Fly Fling presented by Pirelli Tire and in partnership with the Downtown Development Authority aimed to spark the creative culture of the 5th Avenue River District. The event was held on the 5th Avenue Bridge overlooking the Oostanaula River and highlighting the urban improvement area along 5th Avenue. Our vision for the 5th Avenue River District is one that is bright with creativity, a thriving arts scene, fresh vegetation, and a continuing focus on preserving Rome's historic architecture, Rome's trail and levee system, and Rome's majestic rivers.Read more about the event and our vision for the 5th Avenue River District here.
We announced the recipient of the 5th Annual R.A.C.A. (Rome Arts Champion Award), Oak Hill & The Martha Berry Museum and recognized the winners of the Fly Fling Fling Student Art Competition. Please sign up for our listserv to receive ticket information deadlines for next year or email info@romearts.org to participate on the 2016 Fire Fly Fling Host Committee.
Ellen Axson Wilson Art Walk
The 2017 Ellen Axson Wilson Art Walk, presented by the Rome Area Council for the Arts & Downtown Development Authority, will be Saturday, May 6, 2017, as part of the larger Rome Arts Festival in Downtown Rome. We will host a varierty of artists, photographers, jewelers, potters and other crafts makers and enjoy live music and food. Please sign-up for our listserv or check back next March for Art Walk 2017 artist opportunities and applications.
Rome Beer Fest
RACA's Rome Beer Fest is one of Northwest Georgia's most unique craft beer, art, and music experiences. ALL proceeds benefit the Rome Area Council for the Arts, providing community arts programming, education and outreach. In September 2017, RACA will host the 10th annual Rome Beer Fest. We look forward to celebrating with you in then! In the meantime, keep up with sponsorship opportunities, home brew and other announcements at www.romebeerfest.com and www.facebook.com/RomeBeerFest.