RACA Events
Rome Community HeART Project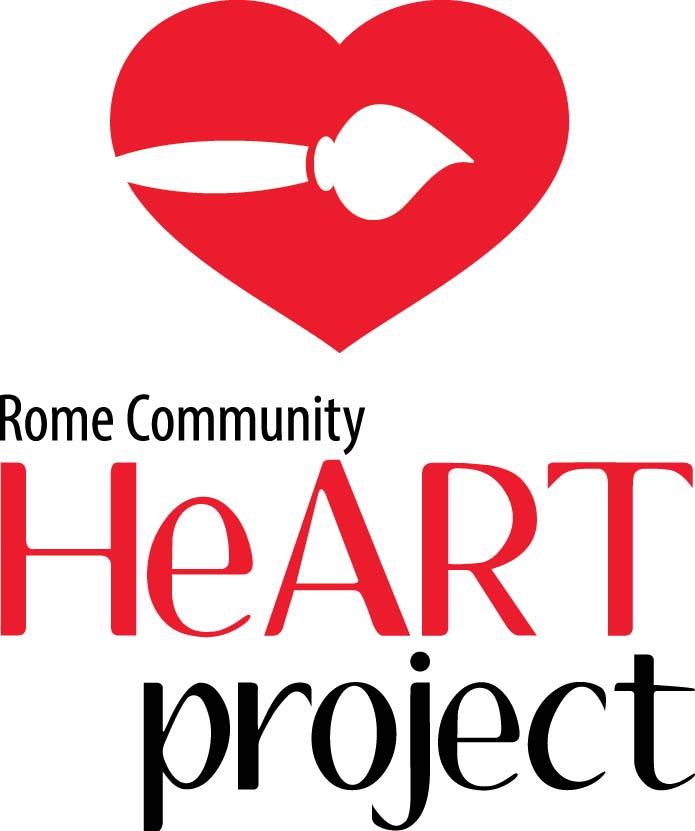 Calling all artists, art teachers, and community-based organizations!
The Rome Area Council for the Arts (RACA) and Redmond Regional Medical Center will be teaming up once again for the 3rd annual Rome Community HeART Project. During the month of February, downtown Rome will be exhibiting larger-than-life "HeARTs" in celebration of National Heart Month. Every year the HeART project has grown and this coming year will be no exception. We are bringing back 15 impressive concrete HeARTs and adding 5 large concrete HeART garlands --- for a total of 20 different opportunities for local artists and/or arts-related groups to showcase their talent throughout downtown Rome. This month-long public art experience will celebrate the local artists and organizations that bring creativity to our city while also raising heart health awareness.
Entries for the Rome Community HeART Project are due on or before December 4, 2015. A maximum of 15 giant HeARTs and 5 HeART garlands will be considered for installation. One HeART will be awarded The People's Choice Award and a $100 cash prize based on "votes" from the community via a social media campaign. All selected artists will be invited to participate in media coverage and promote their work through exposure from this event. Please use the following links for additional information. For more information and important save-the-dates, click here. To download a submission packet, click here. Submit entries to online here or to info@romearts.org.
Firely Fling
On Friday, April 24, 2015, at 7:00 p.m. RACA will celebrate their 38th anniversary! We will announce the recipient of the 4th Annual R.A.C.A. (Rome Arts Champion Award). The spring evening will include a farm to table dinner featuring multiple local culinary artists and farms, jazz entertainment, silent auction, and cocktails.
Ellen Axson Wilson Downtown Art Walk
This year's Art Walk, recently named in honor of First Lady Ellen Axson Wilson, a prize-winning artist, will be on Saturday, May 9, 2015 from 11am to 4pm in Downtown Rome on Broad Street.
Applications are now being accepted from interested artists. The Artist Application and event information can be found here. If you own a business downtown and are interested in sponsoring an artist, the sponsor form is located here.
Rome Beer Festival
The Rome Beer Fest is an annual celebration of the art of beer and a fundraiser for the Rome Area Council for the Arts. Since it's inception in 2008, the beer fest has brought thousands of people to Heritage Park in Rome to sample hundreds of beers, see local bands perform, eat great food, and enjoy each other's company.
Stay tuned for more information about the 8th Annual Rome Beer Festival on September 12, 2015!
For more information visit www.romebeerfest.com and www.facebook.com/RomeBeerFest.